Mildly Slippers – Removable Warm Comfortable Cotton Slippers
Last Minute
- Sale end in
00h 07m 36s
Limited stock! 7408 people are viewing this and 5246 purchased it.
Description
WEAR THE PLUSH SLIDES AND EXPERIENCE COMBINED RELIEF AND COMFORT
This slipper is sustainable and

long-lasting

with reusable and washable plush fabric insoles. Plus, they are comfortable, soft, thick, and relieve foot pains and bad joints.
Super-soft EVA materials and the warmness of high-quality plush stocking make the slippers one of the most comfortable slippers for all seasons. This slipper will relax and mold to the shape of your feet with every wear, eliminating the pressure of walking.
This is probably the most versatile mouldable material in the world. It's soft, resilient, and has compression-recovery characteristics that are second to none.
Incredible flexibility and versatility.

Stress-crack resistance, EVA foam is very hard to break.

Sulfur-free and odor-free.

Superior impact and vibration absorption.

Buoyant and low water absorption.
WATERPROOF 
Despite the thick plush fabric and stylish design, these are waterproof. So, you will feel confident wearing them even outdoors. They are a suitable choice for all-day everyday slippers, whether it is summer or winter.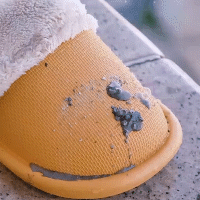 Never need to worry about dirty slippers, the slides and the insole are completely removable and machine washable. You can even toss the Plush Slides without

ANTI-SLIP
With the anti-slip texture, wearing the prevents you from slipping and accidents. The plush fabric will also keep your feet from coming out. You will not experience any blisters or chafing.
RELIEVE FOOT PAINS AND FOOT PROBLEMS
After a long busy day, relax your feet by wearing. They will help you get rid of foot pain with each step. Since they are ergonomically designed, they are properly angled to balance the pressure from the feet through the hips. You can experience instant relief for sore feet and ankles.
Material: EVA, Fleece
Color: Yellow/ Pink/ Purple/ Green.
Package includes : 1 x Washable Fluffy Warm Slippers
Size
---
Thanks for your review! Your review will be verified by the administrator!
Shipping
& Returns
Covid 19 customer and shipping updates
We stand by our product quality. If you are not pleased with your purchase, we offer a 7-day quality guarantee on all products. If you have any additional questions or would like to request return, refund, exchange, feel free to contact us at [email protected].
Learn more about our return, refund, and exchange policies here.
Order processing & shipping time within 3-5 days, and delivery time within 14-21 business days from shipping date. During high volume periods, the processing time may take an additional 2-4 business days . Learn more about shipping FAQs here.
On average, the shipping fee is $4.95 per unit. However, shipping fee may vary due to promotional activities. Please visit the checkout page to obtain your final shipping charges.
One of the basic reasons why we incorporated Happy Shop is to provide the trendiest, best quality products to our customers with the lowest possible prices. We have a very diverse product selection that can appeal to every customer's need.